A wildlife officer has mistakenly shot a female elephant that had participated in the Mahiyanganaya Rajamaha Viharaya s annual Esala Perahera. MORE..


30 Sep 2023 (11:52 AM)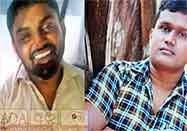 A mobile phone suspected to have been used by the police constable who aided notorious underworld figure "Harak Kata s" recent escape bid at the Criminal Investigation Department (CID) has reportedly been recovered by the Police. MORE..


29 Sep 2023 (8:58 PM)



A 74-year-old male was reportedly killed in the Aluthepola area in Minuwangoda on Thursday morning (28 Sep.), police reported. MORE..


29 Sep 2023 (4:42 PM)