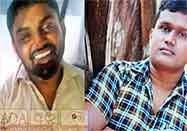 A mobile phone suspected to have been used by the police constable who aided notorious underworld figure "Harak Kata s" recent escape bid at the Criminal Investigation Department (CID) has reportedly been recovered by the Police. MORE..


29 Sep 2023 (8:58 PM)



The All-Ceylon Agrarian Federation alleges that the government is systematically avoiding providing compensation for the farmlands which were destroyed due to the recent drought. MORE..


30 Sep 2023 (12:29 PM)



President Ranil Wickremesinghe, who is in Berlin on a state visit, has engaged in bilateral talks with German Chancellor Olaf Scholz and Kazakhstan President Kassym-Jomart Tokayev on Thursday (Sept. 28). MORE..


29 Sep 2023 (6:16 PM)



A state of emergency has been declared in New York City as strong storms bring flash flooding. MORE..


30 Sep 2023 (9:35 AM)



A panel constituted by the Tamil Nadu government to find durable solutions to short- and long-term issues of the Sri Lankan Tamils living in and out of camps across the State submitted its interim report to Chief Minister M.K. Stalin at the Secretariat on Friday. MORE..


30 Sep 2023 (1:39 PM)



The body of a 51-year-old, who was reported missing since 27 September, was recovered by the police on Thursday (28 Sep.), from the banks of the Kelani River. MORE..


29 Sep 2023 (11:30 PM)