The prevailing showery condition in the southwestern part of the Island is expected to continue further, the Meteorology Department said in its weather forecast today (Sept. 30). MORE..


30 Sep 2023 (8:31 AM)



The Department of Irrigation has extended the Amber flood warnings issued for the low-lying areas of Nilwala River, Kuda Ganga and Gin Ganga for another 24 hours until 8.30 a.m. on Saturday (Sept. 30). MORE..


29 Sep 2023 (12:29 PM)



A gunman killed three people in the Dutch city of Rotterdam on Thursday, shooting a local woman and her daughter in their home then storming into a classroom of Rotterdam s university hospital and opening fire on a male teacher. MORE..


29 Sep 2023 (9:36 AM)



The National Building Research Organization (NBRO) has extended the landslide warnings issued for parts of Galle, Hambantota, Kalutara, Kandy, Kegalle, Matara and Ratnapura districts. MORE..


29 Sep 2023 (5:24 PM)



The police have arrested a suspect who was in possession of crystal methamphetamine (Ice ) worth nearly Rs. 1.2 million. MORE..


29 Sep 2023 (1:46 PM)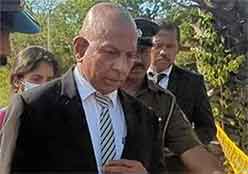 Mullaitivu District Judge and Magistrate T. Saravanarajah has submitted his resignation from all judicial positions. MORE..


29 Sep 2023 (3:07 PM)