The trains scheduled to operate this evening (Oct. 04) are experiencing delays due to an unanticipated trade union action, Sri Lanka Railway says. MORE..


4 Oct 2023 (5:55 PM)



President Ranil Wickremesinghe suggests that part of the money from the Employees Provident Fund (EPF) and Employees Trust Fund (ETF) should be invested abroad. MORE..


4 Oct 2023 (9:35 PM)



Former President Mahinda Rajapaksa says that he has no expectation of returning to power and that the party should now move forward together with a new leadership. MORE..


4 Oct 2023 (9:06 PM)



Several office trains are experiencing delays and cancellations this morning (Oct. 05) due to the unanticipated strike by railway under-guards. MORE..


5 Oct 2023 (8:30 AM)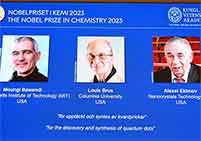 Three scientists won the Nobel Prize in chemistry for their work on tiny quantum dots. MORE..


4 Oct 2023 (5:23 PM)



Sri Lanka s is facing a big challenge from its largest bilateral lender, China to secure a concrete debt relief framework, as it is blocking access to desperately needed cash bailout of 3 billion US dollars from International Monetary fund, Nikkei Asia reported. MORE..


4 Oct 2023 (11:39 PM)