Showers or thundershowers will occur at times in Western, Sabaragamuwa, Southern and North-western provinces and in Kandy and Nuwara-Eliya districts, the Department of Meteorology says. MORE..


5 Oct 2023 (8:57 AM)



At least 10 people have been killed in India s state of Sikkim and 82 others, including 23 army personnel, are missing after heavy rainfall caused the glacial Lhonak Lake to overflow, spurring catastrophic flooding in the region. MORE..


5 Oct 2023 (9:45 AM)



The trains scheduled to operate this evening (Oct. 04) are experiencing delays due to an unanticipated trade union action, Sri Lanka Railway says. MORE..


4 Oct 2023 (5:55 PM)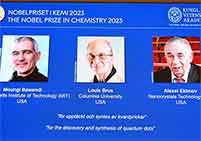 Three scientists won the Nobel Prize in chemistry for their work on tiny quantum dots. MORE..


4 Oct 2023 (5:23 PM)



Former President Mahinda Rajapaksa says that he has no expectation of returning to power and that the party should now move forward together with a new leadership. MORE..


4 Oct 2023 (9:06 PM)



President Ranil Wickremesinghe suggests that part of the money from the Employees Provident Fund (EPF) and Employees Trust Fund (ETF) should be invested abroad. MORE..


4 Oct 2023 (9:35 PM)