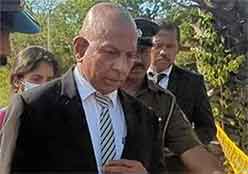 Mullaitivu District Judge and Magistrate T. Saravanarajah has submitted his resignation from all judicial positions. MORE..


29 Sep 2023 (3:07 PM)



SriLankan Airlines has apologised for the extensive cancellation of flights recently, attributing the matter to technical faults. MORE..


29 Sep 2023 (6:05 PM)



The Department of Irrigation has extended the Amber flood warnings issued for the low-lying areas of Nilwala River, Kuda Ganga and Gin Ganga for another 24 hours until 8.30 a.m. on Saturday (Sept. 30). MORE..


29 Sep 2023 (12:29 PM)



A wildlife officer has mistakenly shot a female elephant that had participated in the annual Esala Perahera of Mahiyanganaya Rajamaha Viharaya. MORE..


30 Sep 2023 (11:52 AM)



The Ceylon Electricity Board (CEB) has made a request from the Public Utilities Commission of Sri Lanka (PUCSL) to increase electricity tariffs once again, citing the need to cover the costs for thermal power generation during the months when arid weather conditions were prevalent across the country. MORE..


29 Sep 2023 (7:50 PM)



A gunman killed three people in the Dutch city of Rotterdam on Thursday, shooting a local woman and her daughter in their home then storming into a classroom of Rotterdam s university hospital and opening fire on a male teacher. MORE..


29 Sep 2023 (9:36 AM)