The United States has welcomed the in-principle agreement reached between Sri Lanka and the Official Creditor Committee (OCC) on specific financing terms to restructure the island nation s debt in line with the parameters set in the International Monetary Fund (IMF) program. MORE..


30 Nov 2023 (6:19 PM)



The Criminal Investigation Department (CID) has informed Pastor Jerome Fernando to appear at the CID once again at 9.00 a.m. tomorrow (Dec. 01) to obtain a further statement, Police Media Spokesman SSP Nihal Thalduwa said. MORE..


30 Nov 2023 (8:34 PM)



Bus fares will not be revised despite the fuel price reduction, the National Transport Commission (NTC) says. MORE..


1 Dec 2023 (11:49 AM)



The bodies of an elderly married couple, who are suspected to have been murdered, have been discovered inside a shop in Settikulama area of Vavuniya, the police said. MORE..


30 Nov 2023 (5:38 PM)



Minister of Sports Harin Fernando states that he hopes to bring amendments to the prevailing Sports Act in the near future. MORE..


30 Nov 2023 (9:36 PM)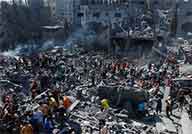 Israel s military said it had resumed combat against Hamas in Gaza on Friday after accusing the Palestinian militant group of violating a seven-day temporary truce by firing towards Israeli territory. MORE..


1 Dec 2023 (12:35 PM)