President Ranil Wickremesinghe suggests that part of the money from the Employees Provident Fund (EPF) and Employees Trust Fund (ETF) should be invested abroad. MORE..


4 Oct 2023 (9:35 PM)



The Railway Station Masters Association states that they have requested the President to take measures to restructure the Department of Railways instead of converting it into an authority. MORE..


4 Oct 2023 (4:43 PM)



Sri Lankan athlete Tharushi Karunarathna clinched the Gold medal in the Women s 800m event at the 19th Asian Games Hangzhou, China, a short while ago. MORE..


4 Oct 2023 (6:39 PM)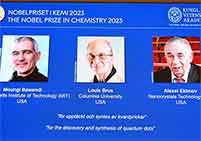 Three scientists won the Nobel Prize in chemistry for their work on tiny quantum dots. MORE..


4 Oct 2023 (5:23 PM)



The Monetary Policy Board of the Central Bank of Sri Lanka (CBSL) has decided to reduce the Standing Deposit Facility Rate (SDFR) and the Standing Lending Facility Rate (SLFR) of the Central Bank by 100 basis points (bps) to 10.00% and 11.00%, respectively. MORE..


5 Oct 2023 (9:34 AM)



Several office trains are experiencing delays and cancellations this morning (Oct. 05) due to the unanticipated strike by railway under-guards. MORE..


5 Oct 2023 (8:30 AM)