Crisis-hit Sri Lanka will focus on improving tax collection to reduce budget deficits as it streamlines the structure of the tax system, the treasury secretary said on Wednesday, with new legislation planned to improve public finances. MORE..


4 Oct 2023 (10:52 PM)



Litro Gas Lanka on Wednesday (04 Oct.) announced a price hike in domestic Liquefied Petroleum (LP) gas cylinders. MORE..


4 Oct 2023 (4:42 PM)



Laugfs Gas PLC, one of the two largest Liquefied Petroleum (LP) gas suppliers in the country, also decided to revise the prices of domestic LP gas cylinders. MORE..


4 Oct 2023 (6:21 PM)



Sri Lanka s is facing a big challenge from its largest bilateral lender, China to secure a concrete debt relief framework, as it is blocking access to desperately needed cash bailout of 3 billion US dollars from International Monetary fund, Nikkei Asia reported. MORE..


4 Oct 2023 (11:39 PM)



The Railway Station Masters Association states that they have requested the President to take measures to restructure the Department of Railways instead of converting it into an authority. MORE..


4 Oct 2023 (4:43 PM)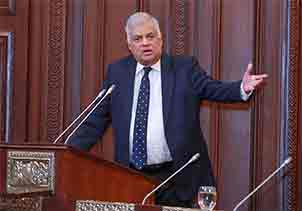 President Ranil Wickremesinghe has emphasised that all media outlets, including social media, should engage in a discussion regarding whether to enter into international agreements or adhere to the respective country s legal framework. MORE..


4 Oct 2023 (4:30 PM)