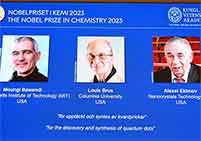 Three scientists won the Nobel Prize in chemistry for their work on tiny quantum dots. MORE..


4 Oct 2023 (5:23 PM)



Early landslide warnings have been issued by the National Building and Research Organisation (NBRO) for multiple areas in eight districts including Colombo, as heavy rainfall continues across parts of the island. MORE..


4 Oct 2023 (8:25 PM)



The trains scheduled to operate this evening (Oct. 04) are experiencing delays due to an unanticipated trade union action, Sri Lanka Railway says. MORE..


4 Oct 2023 (5:55 PM)



The Ministry of Agriculture has raised concerns of a potential food shortage owing to the sudden and extreme weather conditions experienced in the country since of late. MORE..


4 Oct 2023 (7:14 PM)



Sri Lankan athlete Tharushi Karunarathna clinched the Gold medal in the Women s 800m event at the 19th Asian Games Hangzhou, China, a short while ago. MORE..


4 Oct 2023 (6:39 PM)



The Railway Station Masters Association states that they have requested the President to take measures to restructure the Department of Railways instead of converting it into an authority. MORE..


4 Oct 2023 (4:43 PM)