President Ranil Wickremesinghe suggests that part of the money from the Employees Provident Fund (EPF) and Employees Trust Fund (ETF) should be invested abroad. MORE..


4 Oct 2023 (9:35 PM)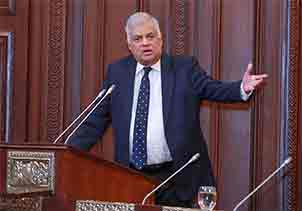 President Ranil Wickremesinghe has emphasised that all media outlets, including social media, should engage in a discussion regarding whether to enter into international agreements or adhere to the respective country s legal framework. MORE..


4 Oct 2023 (4:30 PM)



Litro Gas Lanka on Wednesday (04 Oct.) announced a price hike in domestic Liquefied Petroleum (LP) gas cylinders. MORE..


4 Oct 2023 (4:42 PM)



Another petition has been filed before the Supreme Court, challenging the new Online Safety Bill. MORE..


4 Oct 2023 (2:33 PM)



Several office trains are experiencing delays and cancellations this morning (Oct. 05) due to the unanticipated strike by railway under-guards. MORE..


5 Oct 2023 (8:30 AM)



Early landslide warnings have been issued by the National Building and Research Organisation (NBRO) for multiple areas in eight districts including Colombo, as heavy rainfall continues across parts of the island. MORE..


4 Oct 2023 (8:25 PM)