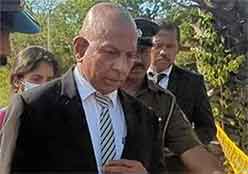 Mullaitivu District Judge and Magistrate T. Saravanarajah has submitted his resignation from all judicial positions. MORE..


29 Sep 2023 (3:07 PM)



A gunman killed three people in the Dutch city of Rotterdam on Thursday, shooting a local woman and her daughter in their home then storming into a classroom of Rotterdam s university hospital and opening fire on a male teacher. MORE..


29 Sep 2023 (9:36 AM)



SriLankan Airlines has apologised for the extensive cancellation of flights recently, attributing the matter to technical faults. MORE..


29 Sep 2023 (6:05 PM)



The Department of Irrigation has extended the Amber flood warnings issued for the low-lying areas of Nilwala River, Kuda Ganga and Gin Ganga for another 24 hours until 8.30 a.m. on Saturday (Sept. 30). MORE..


29 Sep 2023 (12:29 PM)



The body of a 51-year-old, who was reported missing since 27 September, was recovered by the police on Thursday (28 Sep.), from the banks of the Kelani River. MORE..


29 Sep 2023 (11:30 PM)



Children aged below 12 will be able to visit the National Zoological Gardens in Dehiwala (Dehiwala Zoo) free of charge on 01 October 2023, in view of World Children s Day. MORE..


29 Sep 2023 (2:45 PM)