The Irrigation Department today (Sept. 30) extended the Amber flood warning issued for the low-lying areas of Nilwala River, Gin Ganga and Kuda Ganga as the torrential rainfall has continued. MORE..


30 Sep 2023 (12:50 PM)



A state of emergency has been declared in New York City as strong storms bring flash flooding. MORE..


30 Sep 2023 (9:35 AM)



A gunman killed three people in the Dutch city of Rotterdam on Thursday, shooting a local woman and her daughter in their home then storming into a classroom of Rotterdam s university hospital and opening fire on a male teacher. MORE..


29 Sep 2023 (9:36 AM)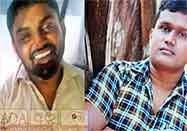 A mobile phone suspected to have been used by the police constable who aided notorious underworld figure "Harak Kata s" recent escape bid at the Criminal Investigation Department (CID) has reportedly been recovered by the Police. MORE..


29 Sep 2023 (8:58 PM)



The National Building Research Organization (NBRO) has extended the landslide warnings issued for parts of Galle, Hambantota, Kalutara, Kandy, Kegalle, Matara and Ratnapura districts. MORE..


29 Sep 2023 (5:24 PM)



SriLankan Airlines has apologised for the extensive cancellation of flights recently, attributing the matter to technical faults. MORE..


29 Sep 2023 (6:05 PM)