The petition brought forth against former Sports Minister Roshan Ranasinghe over alleged contempt of court has been fixed for hearing on January 03, 2024. MORE..


30 Nov 2023 (4:33 PM)



Prevailing showery condition is expected to further enhance across the island due to the low-pressure area over southeast Bay of Bengal, the Department of Meteorology said in its forecast today. MORE..


1 Dec 2023 (9:58 AM)



The New Kelani Bridge, also known as the Golden Gate Kalyani bridge, will be closed under three phases starting from Friday (Dec. 01), according to the Road Development Authority (RDA).


30 Nov 2023 (5:54 PM)



The Committee on Ways and Means recommended to the Department of Pensions to introduce a formula for raising the pensions in proportion to the existing cost of living index in a humanitarian manner. MORE..


30 Nov 2023 (11:57 PM)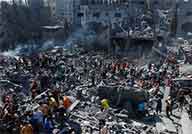 Israel s military said it had resumed combat against Hamas in Gaza on Friday after accusing the Palestinian militant group of violating a seven-day temporary truce by firing towards Israeli territory. MORE..


1 Dec 2023 (12:35 PM)



Minister of Sports Harin Fernando states that he hopes to bring amendments to the prevailing Sports Act in the near future. MORE..


30 Nov 2023 (9:36 PM)