The 2023 Nobel Prize in physics has been awarded to Pierre Agostini, Ferenc Krausz and Anne L Huillier for creating "flashes of light that are short enough to take snapshots of electrons extremely rapid movements," the Royal Swedish Academy of Sciences announced in Stockholm on Tuesday. MORE..


3 Oct 2023 (6:04 PM)



Sri Lanka Customs have seized a large consignment of illegal drugs inside a container at the Rank Container Terminals (RCT) in Orugodawatta. MORE..


3 Oct 2023 (3:28 PM)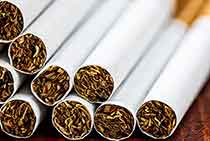 Two persons were taken into custody by Sri Lanka Customs in the early hours of 02 October, for allegedly attempting to smuggle over 50,000 foreign-made cigarettes. MORE..


3 Oct 2023 (2:21 PM)