Early landslide warnings have been issued by the National Building and Research Organisation (NBRO) for multiple areas in eight districts including Colombo, as heavy rainfall continues across parts of the island. MORE..


4 Oct 2023 (8:25 PM)



The trains scheduled to operate this evening (Oct. 04) are experiencing delays due to an unanticipated trade union action, Sri Lanka Railway says. MORE..


4 Oct 2023 (5:55 PM)



The Ministry of Agriculture has raised concerns of a potential food shortage owing to the sudden and extreme weather conditions experienced in the country since of late. MORE..


4 Oct 2023 (7:14 PM)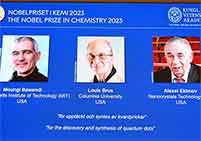 Three scientists won the Nobel Prize in chemistry for their work on tiny quantum dots. MORE..


4 Oct 2023 (5:23 PM)



Crisis-hit Sri Lanka will focus on improving tax collection to reduce budget deficits as it streamlines the structure of the tax system, the treasury secretary said on Wednesday, with new legislation planned to improve public finances. MORE..


4 Oct 2023 (10:52 PM)



Sri Lanka s is facing a big challenge from its largest bilateral lender, China to secure a concrete debt relief framework, as it is blocking access to desperately needed cash bailout of 3 billion US dollars from International Monetary fund, Nikkei Asia reported. MORE..


4 Oct 2023 (11:39 PM)