SriLankan Airlines has apologised for the extensive cancellation of flights recently, attributing the matter to technical faults. MORE..


29 Sep 2023 (6:05 PM)


The Department of Meteorology says the prevailing showery condition in the southwestern part of the Island is expected to continue further. MORE..


29 Sep 2023 (8:37 AM)



A special search operation conducted by Sri Lanka Navy in the beach area of Pumattei on the Karainagar Island, Jaffna in the dark hours of Wednesday (Sept. 27) has led to the seizure of a dinghy loaded with over 100kg (wet weight) of Kerala cannabis. MORE..


29 Sep 2023 (9:12 AM)



A gunman killed three people in the Dutch city of Rotterdam on Thursday, shooting a local woman and her daughter in their home then storming into a classroom of Rotterdam s university hospital and opening fire on a male teacher. MORE..


29 Sep 2023 (9:36 AM)



A wildlife officer has mistakenly shot a female elephant that had participated in the annual Esala Perahera of Mahiyanganaya Rajamaha Viharaya. MORE..


30 Sep 2023 (11:52 AM)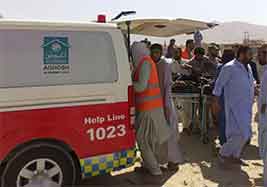 At least 50 people have been killed and more than 50 injured in an explosion in Pakistan, police tell the BBC. MORE..


29 Sep 2023 (4:04 PM)