A 74-year-old male was reportedly killed in the Aluthepola area in Minuwangoda on Thursday morning (28 Sep.), police reported. MORE..


29 Sep 2023 (4:42 PM)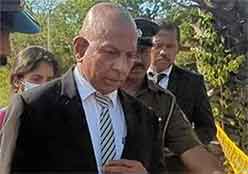 Mullaitivu District Judge and Magistrate T. Saravanarajah has submitted his resignation from all judicial positions. MORE..


29 Sep 2023 (3:07 PM)



A gunman killed three people in the Dutch city of Rotterdam on Thursday, shooting a local woman and her daughter in their home then storming into a classroom of Rotterdam s university hospital and opening fire on a male teacher. MORE..


29 Sep 2023 (9:36 AM)



President Ranil Wickremesinghe, who is in Berlin on a state visit, has engaged in bilateral talks with German Chancellor Olaf Scholz and Kazakhstan President Kassym-Jomart Tokayev on Thursday (Sept. 28). MORE..


29 Sep 2023 (6:16 PM)



A wildlife officer has mistakenly shot a female elephant that had participated in the annual Esala Perahera of Mahiyanganaya Rajamaha Viharaya. MORE..


30 Sep 2023 (11:52 AM)



Prosecutors in Nagoya, Japan said on Friday (29 Sep.) that they have decided not to charge officials at an immigration center in the city for the second time over the 2021 death of a Sri Lankan detainee, despite her family s repeated calls for them to be indicted. MORE..


29 Sep 2023 (11:00 PM)