At least 10 people have been killed in India s state of Sikkim and 82 others, including 23 army personnel, are missing after heavy rainfall caused the glacial Lhonak Lake to overflow, spurring catastrophic flooding in the region. MORE..


5 Oct 2023 (9:45 AM)



President Ranil Wickremesinghe suggests that part of the money from the Employees Provident Fund (EPF) and Employees Trust Fund (ETF) should be invested abroad. MORE..


4 Oct 2023 (9:35 PM)



The Monetary Policy Board of the Central Bank of Sri Lanka (CBSL) has decided to reduce the Standing Deposit Facility Rate (SDFR) and the Standing Lending Facility Rate (SLFR) of the Central Bank by 100 basis points (bps) to 10.00% and 11.00%, respectively. MORE..


5 Oct 2023 (9:34 AM)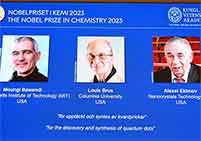 Three scientists won the Nobel Prize in chemistry for their work on tiny quantum dots. MORE..


4 Oct 2023 (5:23 PM)


Showers or thundershowers will occur at times in Western, Sabaragamuwa, Southern and North-western provinces and in Kandy and Nuwara-Eliya districts, the Department of Meteorology says. MORE..


5 Oct 2023 (8:57 AM)



Crisis-hit Sri Lanka will focus on improving tax collection to reduce budget deficits as it streamlines the structure of the tax system, the treasury secretary said on Wednesday, with new legislation planned to improve public finances. MORE..


4 Oct 2023 (10:52 PM)