The United States has welcomed the in-principle agreement reached between Sri Lanka and the Official Creditor Committee (OCC) on specific financing terms to restructure the island nation s debt in line with the parameters set in the International Monetary Fund (IMF) program. MORE..


30 Nov 2023 (6:19 PM)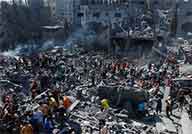 Israel s military said it had resumed combat against Hamas in Gaza on Friday after accusing the Palestinian militant group of violating a seven-day temporary truce by firing towards Israeli territory. MORE..


1 Dec 2023 (12:35 PM)



The New Kelani Bridge, also known as the Golden Gate Kalyani bridge, will be closed under three phases starting from Friday (Dec. 01), according to the Road Development Authority (RDA).


30 Nov 2023 (5:54 PM)



The Committee on Ways and Means recommended to the Department of Pensions to introduce a formula for raising the pensions in proportion to the existing cost of living index in a humanitarian manner. MORE..


30 Nov 2023 (11:57 PM)



Sri Lanka s overall rate of inflation as measured by the Colombo Consumer Price Index (CCPI) on year-on-year (y-o-y) basis has increased to 3.4% in November, from 1.5% in October. MORE..


30 Nov 2023 (5:21 PM)



Israel released another group of Palestinian prisoners Friday, hours after Hamas freed additional Israeli hostages under a last-minute agreement to extend their cease-fire by another day in Gaza. MORE..


1 Dec 2023 (10:29 AM)