The dates for the 2023 G.C.E. Advanced Level examinations were announced on Wednesday by the Commissioner General of Examinations. MORE..


4 Oct 2023 (7:40 PM)



The trains scheduled to operate this evening (Oct. 04) are experiencing delays due to an unanticipated trade union action, Sri Lanka Railway says. MORE..


4 Oct 2023 (5:55 PM)



Early landslide warnings have been issued by the National Building and Research Organisation (NBRO) for multiple areas in eight districts including Colombo, as heavy rainfall continues across parts of the island. MORE..


4 Oct 2023 (8:25 PM)



At least 10 people have been killed in India s state of Sikkim and 82 others, including 23 army personnel, are missing after heavy rainfall caused the glacial Lhonak Lake to overflow, spurring catastrophic flooding in the region. MORE..


5 Oct 2023 (9:45 AM)



The number of Sri Lankan workers departing for South Korea so far this year has surpassed 5,000, growing by 44 percent compared to the previous year, a minister said on Wednesday. MORE..


4 Oct 2023 (11:33 PM)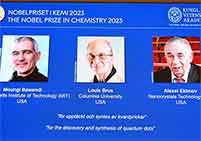 Three scientists won the Nobel Prize in chemistry for their work on tiny quantum dots. MORE..


4 Oct 2023 (5:23 PM)