A panel constituted by the Tamil Nadu government to find durable solutions to short- and long-term issues of the Sri Lankan Tamils living in and out of camps across the State submitted its interim report to Chief Minister M.K. Stalin at the Secretariat on Friday. MORE..


30 Sep 2023 (1:39 PM)



A Civil Defence Department officer attached to the Mapakada Wewa Wildlife Regional Office has been arrested in connection with the shooting of a female elephant that had participated in the annual Randoli Perahera of Mahiyanganaya Rajamaha Viharaya. MORE..


30 Sep 2023 (2:10 PM)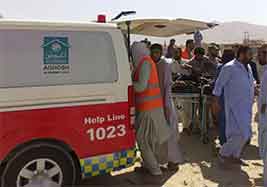 At least 50 people have been killed and more than 50 injured in an explosion in Pakistan, police tell the BBC. MORE..


29 Sep 2023 (4:04 PM)



Prosecutors in Nagoya, Japan said on Friday (29 Sep.) that they have decided not to charge officials at an immigration center in the city for the second time over the 2021 death of a Sri Lankan detainee, despite her family s repeated calls for them to be indicted. MORE..


29 Sep 2023 (11:00 PM)



President Ranil Wickremesinghe, who is in Berlin on a state visit, has engaged in bilateral talks with German Chancellor Olaf Scholz and Kazakhstan President Kassym-Jomart Tokayev on Thursday (Sept. 28). MORE..


29 Sep 2023 (6:16 PM)



The prevailing showery condition in the southwestern part of the Island is expected to continue further, the Meteorology Department said in its weather forecast today (Sept. 30). MORE..


30 Sep 2023 (8:31 AM)