Litro Gas Lanka on Wednesday (04 Oct.) announced a price hike in domestic Liquefied Petroleum (LP) gas cylinders. MORE..


4 Oct 2023 (4:42 PM)



Former President Mahinda Rajapaksa says that he has no expectation of returning to power and that the party should now move forward together with a new leadership. MORE..


4 Oct 2023 (9:06 PM)



Sri Lanka team secured the bronze medal in the Women s 4x400m relay event at the 2023 Asian Games being held in Hangzhou, China, a short while ago. MORE..


4 Oct 2023 (7:31 PM)



The number of Sri Lankan workers departing for South Korea so far this year has surpassed 5,000, growing by 44 percent compared to the previous year, a minister said on Wednesday. MORE..


4 Oct 2023 (11:33 PM)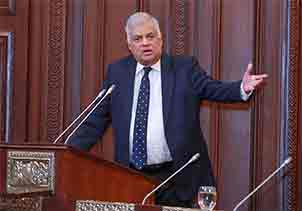 President Ranil Wickremesinghe has emphasised that all media outlets, including social media, should engage in a discussion regarding whether to enter into international agreements or adhere to the respective country s legal framework. MORE..


4 Oct 2023 (4:30 PM)



The trains scheduled to operate this evening (Oct. 03) are experiencing delays due to an unanticipated trade union action, Sri Lanka Railway says. MORE..


4 Oct 2023 (5:55 PM)