Massive tremors were felt in Delhi today after two earthquakes in Nepal - one of magnitude 4.6 and the other of 6.2 - within 25 minutes of each other at a depth of 5 km. The first earthquake hit Nepal at 2-25 pm before being hit by the second at 2-51 pm. MORE..


3 Oct 2023 (5:13 PM)



Sri Lanka Customs have seized a large consignment of illegal drugs inside a container at the Rank Container Terminals (RCT) in Orugodawatta. MORE..


3 Oct 2023 (3:28 PM)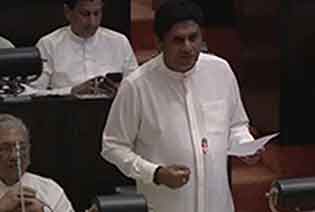 Opposition Leader Sajith Premadasa has warned that Sri Lanka will have to face grave consequences as a result of the enforcement of the Online Safety Bill. MORE..


3 Oct 2023 (4:17 PM)



The Meteorology Department has issued an Amber warning for heavy rains in Southern Province as well as in Kalutara and Ratnapura districts. MORE..


3 Oct 2023 (5:37 PM)



The 2023 Nobel Prize in physics has been awarded to Pierre Agostini, Ferenc Krausz and Anne L Huillier for creating "flashes of light that are short enough to take snapshots of electrons extremely rapid movements," the Royal Swedish Academy of Sciences announced in Stockholm on Tuesday. MORE..


3 Oct 2023 (6:04 PM)



Public Security Minister Tiran Alles presented the much-disputed Online Safety Bill to the parliament today (Oct. 03). MORE..


3 Oct 2023 (1:43 PM)