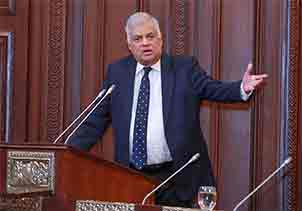 President Ranil Wickremesinghe has emphasised that all media outlets, including social media, should engage in a discussion regarding whether to enter into international agreements or adhere to the respective country s legal framework. MORE..


4 Oct 2023 (4:30 PM)



The Ministry of Agriculture has raised concerns of a potential food shortage owing to the sudden and extreme weather conditions experienced in the country since of late. MORE..


4 Oct 2023 (7:14 PM)



Crisis-hit Sri Lanka will focus on improving tax collection to reduce budget deficits as it streamlines the structure of the tax system, the Treasury Secretary said on Wednesday, with new legislation planned to improve public finances. MORE..


4 Oct 2023 (6:34 PM)