The Committee on Ways and Means recommended to the Department of Pensions to introduce a formula for raising the pensions in proportion to the existing cost of living index in a humanitarian manner. MORE..


30 Nov 2023 (11:57 PM)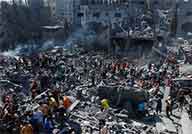 Israel s military said it had resumed combat against Hamas in Gaza on Friday after accusing the Palestinian militant group of violating a seven-day temporary truce by firing towards Israeli territory. MORE..


1 Dec 2023 (12:35 PM)



Bus fares will not be revised despite the fuel price reduction, the National Transport Commission (NTC) says. MORE..


1 Dec 2023 (11:49 AM)