Litro Gas Lanka on Wednesday (04 Oct.) announced a price hike in domestic Liquefied Petroleum (LP) gas cylinders. MORE..


4 Oct 2023 (4:42 PM)



The number of Sri Lankan workers departing for South Korea so far this year has surpassed 5,000, growing by 44 percent compared to the previous year, a minister said on Wednesday. MORE..


4 Oct 2023 (11:33 PM)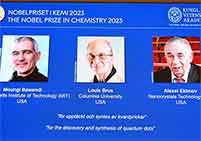 Three scientists won the Nobel Prize in chemistry for their work on tiny quantum dots. MORE..


4 Oct 2023 (5:23 PM)



Former President Mahinda Rajapaksa says that he has no expectation of returning to power and that the party should now move forward together with a new leadership. MORE..


4 Oct 2023 (9:06 PM)



The Ministry of Agriculture has raised concerns of a potential food shortage owing to the sudden and extreme weather conditions experienced in the country since of late. MORE..


4 Oct 2023 (7:14 PM)



Another petition has been filed before the Supreme Court, challenging the new Online Safety Bill. MORE..


4 Oct 2023 (2:33 PM)