Mohamed Uvais Mohamed, the chairman of the Ceylon Petroleum Corporation (CPC) Ceylon Petroleum Storage Terminals Limited (CPSTL), has stepped down from his positions. MORE..


4 Oct 2023 (2:24 AM)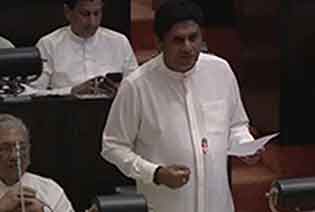 Opposition Leader Sajith Premadasa has warned that Sri Lanka will have to face grave consequences as a result of the enforcement of the Online Safety Bill. MORE..


3 Oct 2023 (4:17 PM)



A batch of human immunoglobulin IV imported to the country in violation of the due process has been temporarily suspended from use, the National Medicines Regulatory Authority (NMRA) said today (Oct. 03).


4 Oct 2023 (12:29 AM)



The National Water Supply and Drainage Board (NWSDB) consists of an unusually high number of politically appointed employees, causing the ministry s unskilled workforce to stand close to 70%, Minister of Water Supply and Estate Infrastructure Development Jeevan Thondaman revealed. MORE..


3 Oct 2023 (3:25 PM)



The Cabinet of Ministers has granted approval to prepare a new bill for the imposition of relevant legal provisions for the establishment of a new university, named Sri Lanka University of Education . MORE..


3 Oct 2023 (7:34 PM)



Massive tremors were felt in Delhi today after two earthquakes in Nepal - one of magnitude 4.6 and the other of 6.2 - within 25 minutes of each other at a depth of 5 km. The first earthquake hit Nepal at 2-25 pm before being hit by the second at 2-51 pm. MORE..


3 Oct 2023 (5:13 PM)