The Cabinet of Ministers has granted approval to prepare a new bill for the imposition of relevant legal provisions for the establishment of a new university, named Sri Lanka University of Education . MORE..


3 Oct 2023 (7:34 PM)



The 2023 Nobel Prize in physics has been awarded to Pierre Agostini, Ferenc Krausz and Anne L Huillier for creating "flashes of light that are short enough to take snapshots of electrons extremely rapid movements," the Royal Swedish Academy of Sciences announced in Stockholm on Tuesday. MORE..


3 Oct 2023 (6:04 PM)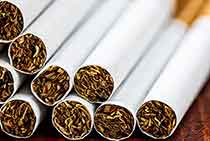 Two persons were taken into custody by Sri Lanka Customs in the early hours of 02 October, for allegedly attempting to smuggle over 50,000 foreign-made cigarettes. MORE..


3 Oct 2023 (2:21 PM)



Mohamed Uvais Mohamed, the chairman of the Ceylon Petroleum Corporation (CPC) Ceylon Petroleum Storage Terminals Limited (CPSTL), has stepped down from his positions. MORE..


4 Oct 2023 (2:24 AM)



The Cabinet of Ministers, at its meeting on Monday (Oct. 02), has given the nod to establish a new Commercial High Court. MORE..


3 Oct 2023 (10:26 PM)



Six people have sustained injuries in a crash in Beruwala which involved two buses, the police said. MORE..


4 Oct 2023 (1:11 AM)