The Ceylon Electricity Board (CEB) has made a request from the Public Utilities Commission of Sri Lanka (PUCSL) to increase electricity tariffs once again, citing the need to cover the costs for thermal power generation during the months when arid weather conditions were prevalent across the country. MORE..


29 Sep 2023 (7:50 PM)



A wildlife officer has mistakenly shot a female elephant that had participated in the annual Esala Perahera of Mahiyanganaya Rajamaha Viharaya. MORE..


30 Sep 2023 (11:52 AM)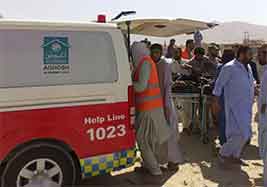 At least 50 people have been killed and more than 50 injured in an explosion in Pakistan, police tell the BBC. MORE..


29 Sep 2023 (4:04 PM)



Prosecutors in Nagoya, Japan said on Friday (29 Sep.) that they have decided not to charge officials at an immigration center in the city for the second time over the 2021 death of a Sri Lankan detainee, despite her family s repeated calls for them to be indicted. MORE..


29 Sep 2023 (11:00 PM)



The gazette notification issued banning the manufacture and use of several types of single-use and short-term plastic products will be in effect from tomorrow (Oct. 01), the Central Environment Authority (CEA) announced. MORE..


30 Sep 2023 (1:48 PM)



The Irrigation Department today (Sept. 30) extended the Amber flood warning issued for the low-lying areas of Nilwala River, Gin Ganga and Kuda Ganga as the torrential rainfall has continued. MORE..


30 Sep 2023 (12:50 PM)