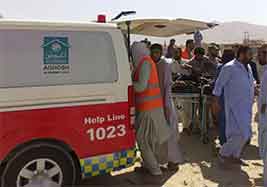 At least 50 people have been killed and more than 50 injured in an explosion in Pakistan, police tell the BBC. MORE..


29 Sep 2023 (4:04 PM)



A state of emergency has been declared in New York City as strong storms bring flash flooding. MORE..


30 Sep 2023 (9:35 AM)



The Irrigation Department today (Sept. 30) extended the Amber flood warning issued for the low-lying areas of Nilwala River, Gin Ganga and Kuda Ganga as the torrential rainfall has continued. MORE..


30 Sep 2023 (12:50 PM)