Another petition has been filed before the Supreme Court, challenging the new Online Safety Bill. MORE..


4 Oct 2023 (2:33 PM)



President Ranil Wickremesinghe suggests that part of the money from the Employees Provident Fund (EPF) and Employees Trust Fund (ETF) should be invested abroad. MORE..


4 Oct 2023 (9:35 PM)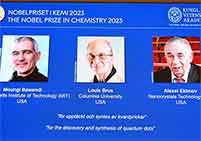 Three scientists won the Nobel Prize in chemistry for their work on tiny quantum dots. MORE..


4 Oct 2023 (5:23 PM)



The Ministry of Agriculture has raised concerns of a potential food shortage owing to the sudden and extreme weather conditions experienced in the country since of late. MORE..


4 Oct 2023 (7:14 PM)



Crisis-hit Sri Lanka will focus on improving tax collection to reduce budget deficits as it streamlines the structure of the tax system, the Treasury Secretary said on Wednesday, with new legislation planned to improve public finances. MORE..


4 Oct 2023 (6:34 PM)



Sri Lanka s is facing a big challenge from its largest bilateral lender, China to secure a concrete debt relief framework, as it is blocking access to desperately needed cash bailout of 3 billion US dollars from International Monetary fund, Nikkei Asia reported. MORE..


4 Oct 2023 (11:39 PM)