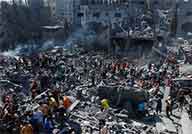 Israel s military said it had resumed combat against Hamas in Gaza on Friday after accusing the Palestinian militant group of violating a seven-day temporary truce by firing towards Israeli territory. MORE..


1 Dec 2023 (12:35 PM)



Minister of Sports Harin Fernando states that he hopes to bring amendments to the prevailing Sports Act in the near future. MORE..


30 Nov 2023 (9:36 PM)



The Committee on Ways and Means recommended to the Department of Pensions to introduce a formula for raising the pensions in proportion to the existing cost of living index in a humanitarian manner. MORE..


30 Nov 2023 (11:57 PM)



Pastor Jerome Fernando has arrived at the Criminal Investigation Department (CID) for the second consecutive day this morning (Dec.01) to record a statement concerning his remarks that stirred up much controversy in the country. MORE..


1 Dec 2023 (10:42 AM)



Customs Intelligence Unit in Tamil Nadu seized eight kilograms of gold worth Rs 5 crore which was smuggled from Sri Lanka. The seized gold was in the form of gold biscuits and gold bars. MORE..


30 Nov 2023 (4:49 PM)



Israel released another group of Palestinian prisoners Friday, hours after Hamas freed additional Israeli hostages under a last-minute agreement to extend their cease-fire by another day in Gaza. MORE..


1 Dec 2023 (10:29 AM)