The dates for the 2023 G.C.E. Advanced Level examinations were announced on Wednesday by the Commissioner General of Examinations. MORE..


4 Oct 2023 (7:40 PM)



President Ranil Wickremesinghe suggests that part of the money from the Employees Provident Fund (EPF) and Employees Trust Fund (ETF) should be invested abroad. MORE..


4 Oct 2023 (9:35 PM)



Sri Lanka team secured the bronze medal in the Women s 4x400m relay event at the 2023 Asian Games being held in Hangzhou, China, a short while ago. MORE..


4 Oct 2023 (7:31 PM)



The trains scheduled to operate this evening (Oct. 03) are experiencing delays due to an unanticipated trade union action, Sri Lanka Railway says. MORE..


4 Oct 2023 (5:55 PM)



The Ministry of Agriculture has raised concerns of a potential food shortage owing to the sudden and extreme weather conditions experienced in the country since of late. MORE..


4 Oct 2023 (7:14 PM)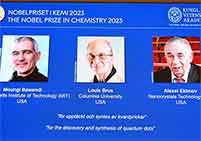 Three scientists won the Nobel Prize in chemistry for their work on tiny quantum dots. MORE..


4 Oct 2023 (5:23 PM)