Mohamed Uvais Mohamed, the chairman of the Ceylon Petroleum Corporation (CPC) Ceylon Petroleum Storage Terminals Limited (CPSTL), has stepped down from his positions. MORE..


4 Oct 2023 (2:24 AM)



Litro Gas Lanka, one of the two largest Liquefied Petroleum (LP) gas suppliers in the country, is set to make an announcement pertaining to the price revision of domestic LP gas on Wednesday (04 Oct.). MORE..


3 Oct 2023 (7:20 PM)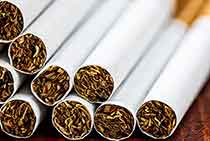 Two persons were taken into custody by Sri Lanka Customs in the early hours of 02 October, for allegedly attempting to smuggle over 50,000 foreign-made cigarettes. MORE..


3 Oct 2023 (2:21 PM)



The 2023 Nobel Prize in physics has been awarded to Pierre Agostini, Ferenc Krausz and Anne L Huillier for creating "flashes of light that are short enough to take snapshots of electrons extremely rapid movements," the Royal Swedish Academy of Sciences announced in Stockholm on Tuesday. MORE..


3 Oct 2023 (6:04 PM)



Massive tremors were felt in Delhi today after two earthquakes in Nepal - one of magnitude 4.6 and the other of 6.2 - within 25 minutes of each other at a depth of 5 km. The first earthquake hit Nepal at 2-25 pm before being hit by the second at 2-51 pm. MORE..


3 Oct 2023 (5:13 PM)



A batch of human immunoglobulin IV imported to the country in violation of the due process has been temporarily suspended from use, the National Medicines Regulatory Authority (NMRA) said today (Oct. 03).


4 Oct 2023 (12:29 AM)