Former President Mahinda Rajapaksa says that he has no expectation of returning to power and that the party should now move forward together with a new leadership. MORE..


4 Oct 2023 (9:06 PM)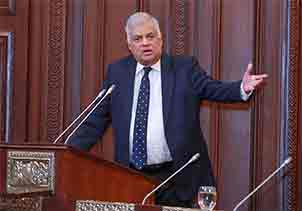 President Ranil Wickremesinghe has emphasised that all media outlets, including social media, should engage in a discussion regarding whether to enter into international agreements or adhere to the respective country s legal framework. MORE..


4 Oct 2023 (4:30 PM)



Sri Lankan athlete Tharushi Karunarathna clinched the Gold medal in the Women s 800m event at the 19th Asian Games Hangzhou, China, a short while ago. MORE..


4 Oct 2023 (6:39 PM)



The dates for the 2023 G.C.E. Advanced Level examinations were announced on Wednesday by the Commissioner General of Examinations. MORE..


4 Oct 2023 (7:40 PM)



The Ministry of Agriculture has raised concerns of a potential food shortage owing to the sudden and extreme weather conditions experienced in the country since of late. MORE..


4 Oct 2023 (7:14 PM)



President Ranil Wickremesinghe suggests that part of the money from the Employees Provident Fund (EPF) and Employees Trust Fund (ETF) should be invested abroad. MORE..


4 Oct 2023 (9:35 PM)