The Ceylon Electricity Board (CEB) has made a request from the Public Utilities Commission of Sri Lanka (PUCSL) to increase electricity tariffs once again, citing the need to cover the costs for thermal power generation during the months when arid weather conditions were prevalent across the country. MORE..


29 Sep 2023 (7:50 PM)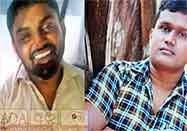 A mobile phone suspected to have been used by the police constable who aided notorious underworld figure "Harak Kata s" recent escape bid at the Criminal Investigation Department (CID) has reportedly been recovered by the Police. MORE..


29 Sep 2023 (8:58 PM)



The National Building Research Organization (NBRO) has extended the landslide warnings issued for parts of Galle, Hambantota, Kalutara, Kandy, Kegalle, Matara and Ratnapura districts. MORE..


29 Sep 2023 (5:24 PM)



Children aged below 12 will be able to visit the National Zoological Gardens in Dehiwala (Dehiwala Zoo) free of charge on 01 October 2023, in view of World Children s Day. MORE..


29 Sep 2023 (2:45 PM)



The police have arrested a suspect who was in possession of crystal methamphetamine (Ice ) worth nearly Rs. 1.2 million. MORE..


29 Sep 2023 (1:46 PM)



A state of emergency has been declared in New York City as strong storms bring flash flooding. MORE..


30 Sep 2023 (9:35 AM)