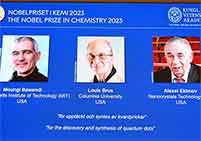 Three scientists won the Nobel Prize in chemistry for their work on tiny quantum dots. MORE..


4 Oct 2023 (5:23 PM)



The dates for the 2023 G.C.E. Advanced Level examinations were announced on Wednesday by the Commissioner General of Examinations. MORE..


4 Oct 2023 (7:40 PM)



President Ranil Wickremesinghe suggests that part of the money from the Employees Provident Fund (EPF) and Employees Trust Fund (ETF) should be invested abroad. MORE..


4 Oct 2023 (9:35 PM)



All government schools in the Matara District will be closed on 05 and 06 October, in view of the prevailing torrential rains and inclement weather conditions, Education Director of the Southern Province Ranjith Yapa confirmed. MORE..


4 Oct 2023 (8:42 PM)



Crisis-hit Sri Lanka will focus on improving tax collection to reduce budget deficits as it streamlines the structure of the tax system, the Treasury Secretary said on Wednesday, with new legislation planned to improve public finances. MORE..


4 Oct 2023 (6:34 PM)



The Railway Station Masters Association states that they have requested the President to take measures to restructure the Department of Railways instead of converting it into an authority. MORE..


4 Oct 2023 (4:43 PM)