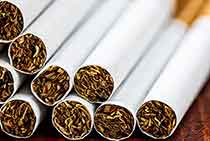 Two persons were taken into custody by Sri Lanka Customs in the early hours of 02 October, for allegedly attempting to smuggle over 50,000 foreign-made cigarettes. MORE..


3 Oct 2023 (2:21 PM)



Public Security Minister Tiran Alles presented the much-disputed Online Safety Bill to the parliament today (Oct. 03). MORE..


3 Oct 2023 (1:43 PM)



The Cabinet of Ministers, at its meeting on Monday (Oct. 02), has given the nod to establish a new Commercial High Court. MORE..


3 Oct 2023 (10:26 PM)



A batch of human immunoglobulin IV imported to the country in violation of the due process has been temporarily suspended from use, the National Medicines Regulatory Authority (NMRA) said today (Oct. 03).


4 Oct 2023 (12:29 AM)



Litro Gas Lanka, one of the two largest Liquefied Petroleum (LP) gas suppliers in the country, is set to make an announcement pertaining to the price revision of domestic LP gas on Wednesday (04 Oct.). MORE..


3 Oct 2023 (7:20 PM)



A petition against the Online Safety Bill was filed before the Supreme Court this afternoon (03 Oct.). MORE..


3 Oct 2023 (4:47 PM)