Minister of Sports Harin Fernando states that he hopes to bring amendments to the prevailing Sports Act in the near future. MORE..


30 Nov 2023 (9:36 PM)



The bodies of an elderly married couple, who are suspected to have been murdered, have been discovered inside a shop in Settikulama area of Vavuniya, the police said. MORE..


30 Nov 2023 (5:38 PM)



Prevailing showery condition is expected to further enhance across the island due to the low-pressure area over southeast Bay of Bengal, the Department of Meteorology said in its forecast today. MORE..


1 Dec 2023 (9:58 AM)



Pastor Jerome Fernando has arrived at the Criminal Investigation Department (CID) for the second consecutive day this morning (Dec.01) to record a statement concerning his remarks that stirred up much controversy in the country. MORE..


1 Dec 2023 (10:42 AM)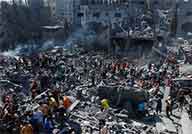 Israel s military said it had resumed combat against Hamas in Gaza on Friday after accusing the Palestinian militant group of violating a seven-day temporary truce by firing towards Israeli territory. MORE..


1 Dec 2023 (12:35 PM)



Sri Lankan youths will be conditionally allowed to enter Japan under the Special Skilled Worker (SSW) visa category for employment opportunities in the field of construction, Minister of Labour Foreign Employment says. MORE..


1 Dec 2023 (12:23 PM)