Pastor Jerome Fernando has reportedly left the Criminal Investigation Department (CID), a short while ago, after providing a statement for around 08 hours. MORE..


30 Nov 2023 (6:53 PM)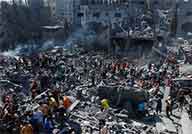 Israel s military said it had resumed combat against Hamas in Gaza on Friday after accusing the Palestinian militant group of violating a seven-day temporary truce by firing towards Israeli territory. MORE..


1 Dec 2023 (12:35 PM)



The petition brought forth against former Sports Minister Roshan Ranasinghe over alleged contempt of court has been fixed for hearing on January 03, 2024. MORE..


30 Nov 2023 (4:33 PM)



The Officer-In-Charge (OIC) of the Kandana Police Anti-Vice Unit has been arrested by Bribery Commission officers while soliciting a bribe. MORE..


30 Nov 2023 (10:29 PM)



The New Kelani Bridge, also known as the Golden Gate Kalyani bridge, will be closed under three phases starting from Friday (Dec. 01), according to the Road Development Authority (RDA).


30 Nov 2023 (5:54 PM)



In a significant move towards infrastructural development, the renovation of dilapidated rural roads across the country is planned to commence next week, Minister of Transport, Highways Mass Media said on Thursday (Nov.30). MORE..


1 Dec 2023 (12:50 PM)