Bus fares will not be revised despite the fuel price reduction, the National Transport Commission (NTC) says. MORE..


1 Dec 2023 (11:49 AM)



The Ceylon Petroleum Corporation (CEYPETCO) has revised its fuel prices with effect from midnight today (Nov. 30). MORE..


30 Nov 2023 (11:15 PM)



The Committee on Ways and Means recommended to the Department of Pensions to introduce a formula for raising the pensions in proportion to the existing cost of living index in a humanitarian manner. MORE..


30 Nov 2023 (11:57 PM)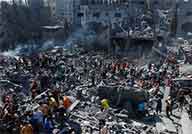 Israel s military said it had resumed combat against Hamas in Gaza on Friday after accusing the Palestinian militant group of violating a seven-day temporary truce by firing towards Israeli territory. MORE..


1 Dec 2023 (12:35 PM)



The New Kelani Bridge, also known as the Golden Gate Kalyani bridge, will be closed under three phases starting from Friday (Dec. 01), according to the Road Development Authority (RDA).


30 Nov 2023 (5:54 PM)



Pastor Jerome Fernando has arrived at the Criminal Investigation Department (CID) for the second consecutive day this morning (Dec.01) to record a statement concerning his remarks that stirred up much controversy in the country. MORE..


1 Dec 2023 (10:42 AM)