The United States has welcomed the in-principle agreement reached between Sri Lanka and the Official Creditor Committee (OCC) on specific financing terms to restructure the island nation s debt in line with the parameters set in the International Monetary Fund (IMF) program. MORE..


30 Nov 2023 (6:19 PM)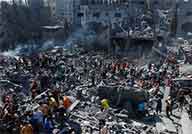 Israel s military said it had resumed combat against Hamas in Gaza on Friday after accusing the Palestinian militant group of violating a seven-day temporary truce by firing towards Israeli territory. MORE..


1 Dec 2023 (12:35 PM)



Prevailing showery condition is expected to further enhance across the island due to the low-pressure area over southeast Bay of Bengal, the Department of Meteorology said in its forecast today. MORE..


1 Dec 2023 (9:58 AM)



Sri Lanka s overall rate of inflation as measured by the Colombo Consumer Price Index (CCPI) on year-on-year (y-o-y) basis has increased to 3.4% in November, from 1.5% in October. MORE..


30 Nov 2023 (5:21 PM)



Israel released another group of Palestinian prisoners Friday, hours after Hamas freed additional Israeli hostages under a last-minute agreement to extend their cease-fire by another day in Gaza. MORE..


1 Dec 2023 (10:29 AM)



The bodies of an elderly married couple, who are suspected to have been murdered, have been discovered inside a shop in Settikulama area of Vavuniya, the police said. MORE..


30 Nov 2023 (5:38 PM)