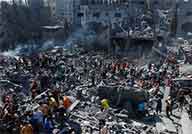 Israel s military said it had resumed combat against Hamas in Gaza on Friday after accusing the Palestinian militant group of violating a seven-day temporary truce by firing towards Israeli territory. MORE..


1 Dec 2023 (12:35 PM)



Minister of Sports Harin Fernando states that he hopes to bring amendments to the prevailing Sports Act in the near future. MORE..


30 Nov 2023 (9:36 PM)



The New Kelani Bridge, also known as the Golden Gate Kalyani bridge, will be closed under three phases starting from Friday (Dec. 01), according to the Road Development Authority (RDA).


30 Nov 2023 (5:54 PM)



The results of the 2022(2023) G.C.E. Ordinary Level Examination have been released last night (Nov.30). MORE..


1 Dec 2023 (7:25 AM)



The United States has welcomed the in-principle agreement reached between Sri Lanka and the Official Creditor Committee (OCC) on specific financing terms to restructure the island nation s debt in line with the parameters set in the International Monetary Fund (IMF) program. MORE..


30 Nov 2023 (6:19 PM)



The Officer-In-Charge (OIC) of the Kandana Police Anti-Vice Unit has been arrested by Bribery Commission officers while soliciting a bribe. MORE..


30 Nov 2023 (10:29 PM)