The trains scheduled to operate this evening (Oct. 04) are experiencing delays due to an unanticipated trade union action, Sri Lanka Railway says. MORE..


4 Oct 2023 (5:55 PM)



Laugfs Gas PLC, one of the two largest Liquefied Petroleum (LP) gas suppliers in the country, also decided to revise the prices of domestic LP gas cylinders. MORE..


4 Oct 2023 (6:21 PM)



The dates for the 2023 G.C.E. Advanced Level examinations were announced on Wednesday by the Commissioner General of Examinations. MORE..


4 Oct 2023 (7:40 PM)



Sri Lanka s is facing a big challenge from its largest bilateral lender, China to secure a concrete debt relief framework, as it is blocking access to desperately needed cash bailout of 3 billion US dollars from International Monetary fund, Nikkei Asia reported. MORE..


4 Oct 2023 (11:39 PM)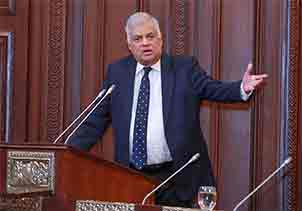 President Ranil Wickremesinghe has emphasised that all media outlets, including social media, should engage in a discussion regarding whether to enter into international agreements or adhere to the respective country s legal framework. MORE..


4 Oct 2023 (4:30 PM)



Early landslide warnings have been issued by the National Building and Research Organisation (NBRO) for multiple areas in eight districts including Colombo, as heavy rainfall continues across parts of the island. MORE..


4 Oct 2023 (8:25 PM)