The Meteorology Department has issued an Amber warning for heavy rains in Southern Province as well as in Kalutara and Ratnapura districts. MORE..


3 Oct 2023 (5:37 PM)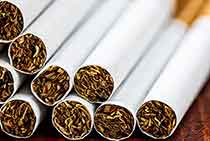 Two persons were taken into custody by Sri Lanka Customs in the early hours of 02 October, for allegedly attempting to smuggle over 50,000 foreign-made cigarettes. MORE..


3 Oct 2023 (2:21 PM)



Mohamed Uvais Mohamed, the chairman of the Ceylon Petroleum Corporation (CPC) Ceylon Petroleum Storage Terminals Limited (CPSTL), has stepped down from his positions. MORE..


4 Oct 2023 (2:24 AM)



Six people have sustained injuries in a crash in Beruwala which involved two buses, the police said. MORE..


4 Oct 2023 (1:11 AM)



A petition against the Online Safety Bill was filed before the Supreme Court this afternoon (03 Oct.). MORE..


3 Oct 2023 (4:47 PM)



Public Security Minister Tiran Alles presented the much-disputed Online Safety Bill to the parliament today (Oct. 03). MORE..


3 Oct 2023 (1:43 PM)