Crisis-hit Sri Lanka will focus on improving tax collection to reduce budget deficits as it streamlines the structure of the tax system, the treasury secretary said on Wednesday, with new legislation planned to improve public finances. MORE..


4 Oct 2023 (10:52 PM)



The Railway Station Masters Association states that they have requested the President to take measures to restructure the Department of Railways instead of converting it into an authority. MORE..


4 Oct 2023 (4:43 PM)



The dates for the 2023 G.C.E. Advanced Level examinations were announced on Wednesday by the Commissioner General of Examinations. MORE..


4 Oct 2023 (7:40 PM)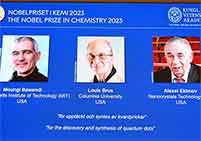 Three scientists won the Nobel Prize in chemistry for their work on tiny quantum dots. MORE..


4 Oct 2023 (5:23 PM)



Another petition has been filed before the Supreme Court, challenging the new Online Safety Bill. MORE..


4 Oct 2023 (2:33 PM)



Early landslide warnings have been issued by the National Building and Research Organisation (NBRO) for multiple areas in eight districts including Colombo, as heavy rainfall continues across parts of the island. MORE..


4 Oct 2023 (8:25 PM)