The decision to revive the Embilipitiya Paper Mill, which had discontinued its production, has received Cabinet approval. MORE..


19 Sep 2018 (6:36 PM)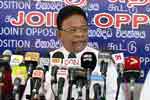 There is no other era in the Sri Lankan history, in which Sri Lankan Rupee consecutively depreciated three times just within a week and three years, claims the Joint Opposition. MORE..


19 Sep 2018 (7:06 PM)



The Islamabad High Court (IHC) on Wednesday ordered the release from jail of former prime minister Nawaz Sharif, his daughter Maryam Nawaz and son-in-law Capt Safdar, suspending the sentences they received from an accountability court in July. MORE..


19 Sep 2018 (6:02 PM)



A woman has been arrested in Pitawila, Moragahahena for the possession of illicit liquor. MORE..


20 Sep 2018 (11:27 AM)



The Ministry of Finance and Media states that price hike of sugar will not be permitted as the international price of sugar has been drastically reduced due to excess sugar in the world market. MORE..


19 Sep 2018 (9:10 PM)



The Monetary Board of the Central Bank of Sri Lanka has imposed a 100 per cent margin deposit requirement against Letters of Credit (LCs) opened with the commercial banks for the import of motor vehicles, which are generally used for non-commercial purposes, with immediate effect. MORE..


19 Sep 2018 (9:57 PM)