The Ceylon Electricity Board (CEB) has made a request from the Public Utilities Commission of Sri Lanka (PUCSL) to increase electricity tariffs once again, citing the need to cover the costs for thermal power generation during the months when arid weather conditions were prevalent across the country. MORE..


29 Sep 2023 (7:50 PM)



The police have arrested a suspect who was in possession of crystal methamphetamine (Ice ) worth nearly Rs. 1.2 million. MORE..


29 Sep 2023 (1:46 PM)



Children aged below 12 will be able to visit the National Zoological Gardens in Dehiwala (Dehiwala Zoo) free of charge on 01 October 2023, in view of World Children s Day. MORE..


29 Sep 2023 (2:45 PM)



SriLankan Airlines has apologised for the extensive cancellation of flights recently, attributing the matter to technical faults. MORE..


29 Sep 2023 (6:05 PM)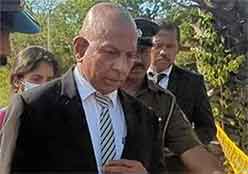 Mullaitivu District Judge and Magistrate T. Saravanarajah has submitted his resignation from all judicial positions. MORE..


29 Sep 2023 (3:07 PM)



President Ranil Wickremesinghe, who is in Berlin on a state visit, has engaged in bilateral talks with German Chancellor Olaf Scholz and Kazakhstan President Kassym-Jomart Tokayev on Thursday (Sept. 28). MORE..


29 Sep 2023 (6:16 PM)