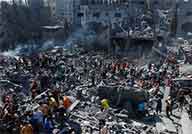 Israel s military said it had resumed combat against Hamas in Gaza on Friday after accusing the Palestinian militant group of violating a seven-day temporary truce by firing towards Israeli territory. MORE..


1 Dec 2023 (12:35 PM)



Pastor Jerome Fernando has arrived at the Criminal Investigation Department (CID) for the second consecutive day this morning (Dec.01) to record a statement concerning his remarks that stirred up much controversy in the country. MORE..


1 Dec 2023 (10:42 AM)



In a significant move towards infrastructural development, the renovation of dilapidated rural roads across the country is planned to commence next week, Minister of Transport, Highways Mass Media said on Thursday (Nov.30). MORE..


1 Dec 2023 (12:50 PM)



A total of 13,588 students who sat for the 2022(2023) G.C.E. Ordinary Level Examination have secured A passes for all 9 subjects, Minister of Education Susil Premajayantha says. MORE..


1 Dec 2023 (1:25 PM)



The bodies of an elderly married couple, who are suspected to have been murdered, have been discovered inside a shop in Settikulama area of Vavuniya, the police said. MORE..


30 Nov 2023 (5:38 PM)



The Criminal Investigation Department (CID) has informed Pastor Jerome Fernando to appear at the CID once again at 9.00 a.m. tomorrow (Dec. 01) to obtain a further statement, Police Media Spokesman SSP Nihal Thalduwa said. MORE..


30 Nov 2023 (8:34 PM)